De ontwikkeling van het groenste visitekaartje!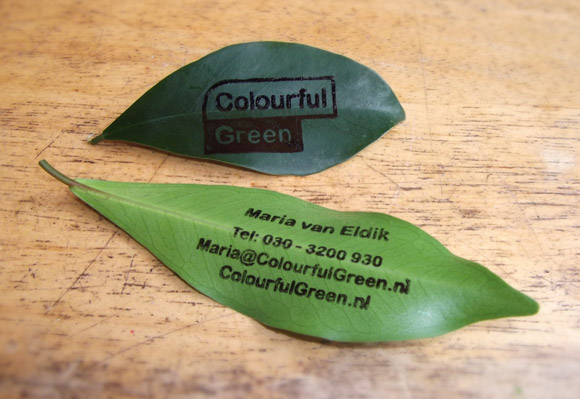 Door de blaadjes een aantal dagen in een schaal met 2/3 water en 1/3 plantaardige glycerine te laten badderen moeten ze – als het goed is – tot een paar jaar mooi blijven. Tot nu toe geven de blaadjes van een boom die op laurier lijkt het beste resultaat. De klimop was niet zo'n succes. Ik ben nu nog aan het uitproberen wat het beste resultaat geeft; wel of niet langer laten badderen, eerst tussen kranten laten drogen, strijken of vers van de boom meteen in bad etc.
Voor de bedrukking heb ik nu niet giftige sneldrogende inkt gebruikt (gewone inkt pakte niet goed), maar op de verpakking staat wel "Use in well ventilated area. • Do not inhale or ingest. • Avoid contact with eyes and skin."… Dus lees je dit en weet jij een 'groenere' oplossing, dan ben ik daar uiteraard erg benieuwd naar!